Being a rather young platform with psychic readers, Oranum is already extremely popular as it provides a great variety of experts online. The quality of service of Oranum psychic readings is excellent because the platform cares about its customers and keeps the satisfaction rate very high. 
What makes this site different from other platforms is that it is designed primarily as a video chat site with an option to have private readings as well. The process is simple: a user browses all the psychics who are currently online and joins their live stream. There you can interact with them in a public chat or even send them gifts if you appreciate their work.
Apart from video communication, it is important to emphasize that this platform doesn't offer anything unique or special. Still, the quality of services is exceptional, which makes this place so popular and enjoyable. Read more in our Oranum review.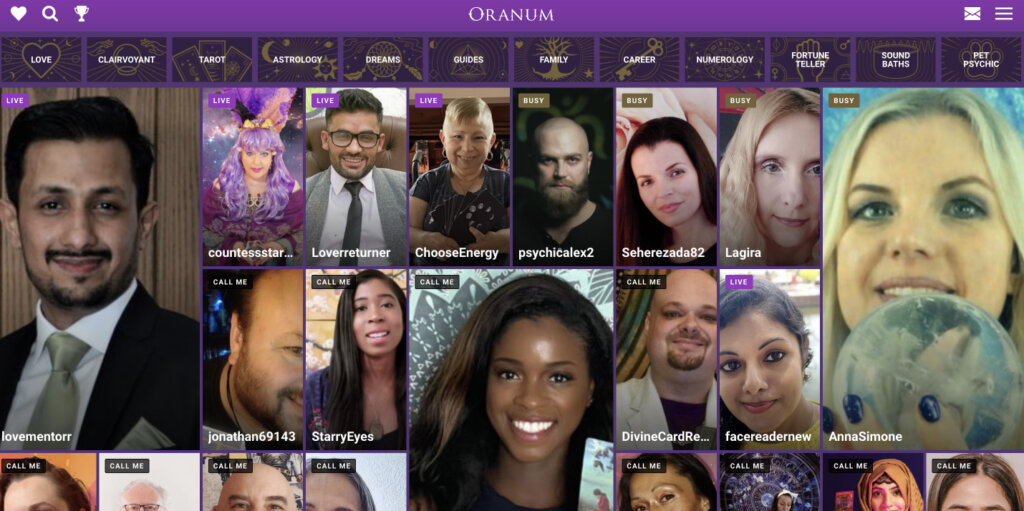 Oranum main features
If you want to communicate with an expert, you can do it via video chat, phone, group chat, or email. There are a lot of professionals working here—more than 100 mediums could be found who can help you with your problem. Let's take a look at the main features provided by the site:
Love readings
Career readings
Astrology
Tarot readings
Dream analysis
Numerology
Family readings
Fortune telling
As you may see, the diversity of services is adequate and covers the majority of modern needs and demands of people who require psychic services.
Oranum pricing and discounts
The purpose of the Oranum psychics review is to show you how simple and convenient your time and experience on this site could be. And it goes without saying that the question about the cost of services is one of the most important. Indeed, services on Oranum are not free, but they are not as expensive as one may think.
First of all, psychic reading services are usually charged per minute, but Oranum is an exception. Here, you buy credits instead of paying per minute. Fortunately, this site is one of the most affordable ones compared to its competitors. All new users get 10,000 credits upon registration.
Oranum—Legit or scam?
Is Oranum legit and scam-free? Yes. It is a legit and effective platform where you can enjoy high-quality services. All mediums working on the platform are certified and verified, so there is no chance you can get scammed by some stranger. Moreover, every single reader is rated via points. You can see the number of points on the profile card—it is the number of satisfied customers that positively rated a medium. So, you should use this site without thinking that Oranum scam exists! Moreover, there are many Oranum reviews that can help you learn more about this site and understand that it is scam-free!
Similar Sites Like Oranum
FAQ on Oranum
What is Oranum?
Oranum is a psychic website where you can find an experienced, professional psychic reader.
The website offers free chat sessions with their psychics and also provides paid readings. The reading fees are very affordable and range from $10 to $30 for a short reading. Oranum also has a referral program that gives you 10% of the amount of your friends who sign up on the site.
Oranum is a great place to visit if you need guidance on anything in your life or just want to get some insight into your future.
Does Oranum Psychics have a refund policy?
Oranum Psychics is a platform that offers psychic readings and spiritual guidance. It is a popular platform in the industry but it does not have any refund policy. This has led to some customers claiming they were defrauded by the company.
The company has denied all these claims stating that they are not responsible for the actions of their clients. They also claim that they have never allowed customers to make payments with third-party gift cards and cryptocurrencies, which are two of their most popular payment options.
This article will discuss whether Oranum Psychics has a refund policy or not and if it is worth investing in them as an alternative to other companies in the industry.
Is Oranum Psychics confidential?
Oranum Psychics is a reputable company that provides services for the psychic community. They offer a variety of psychic readings, including medical, love, career and spiritual readings.
Oranum Psychics is a company that provides professional psychic readings for its customers. They have been in business since 2010 and have accumulated over 500 reviews on their website.
The Oranum Psychics website states that they are not responsible for the accuracy of any information provided by their psychics. Customers should understand that they are paying for an experience and not a service.
How to find my trusted psychic advisor on Oranum Psychics?
It is difficult to find a psychic advisor on Oranum Psychics. This article will help you understand how to find the best psychic advisor for you.
When looking for a trusted psychic, it's important to consider what type of advice you need and what your budget is. This article will provide tips on how to identify the best psychic advisor for your needs.
One of the most important aspects of finding a reliable psychic advisor is to do your research before contacting them. You should never be afraid to ask questions about their qualifications or past experience in order to get an idea of whether they are worth contacting or not.