Asknow psychic readings website is one of the most reputable platforms there is. It has been on the market since 2005, and over these years, it has proven to be a popular and effective place that can offer one excellent online psychic experience for a relatively affordable cost. If you are looking for answers in your life or want to use one of the myriads of services this site offers, you are in the right place.
Although it is not the oldest psychic reading platform, it is definitely one of the most well-organized and polished. First of all, it is only one of few sites that have English and Spanish versions, so you can get psychic readings in Spanish! Second, the site offers different tiers of readers based on what you seek and how much money you can spend.
In this Asknow review, we are going to tell you all about the main features of this site, the cost and special offers that Asknow offers to its members, as well as answer a question: "Is Asknow legit or not?"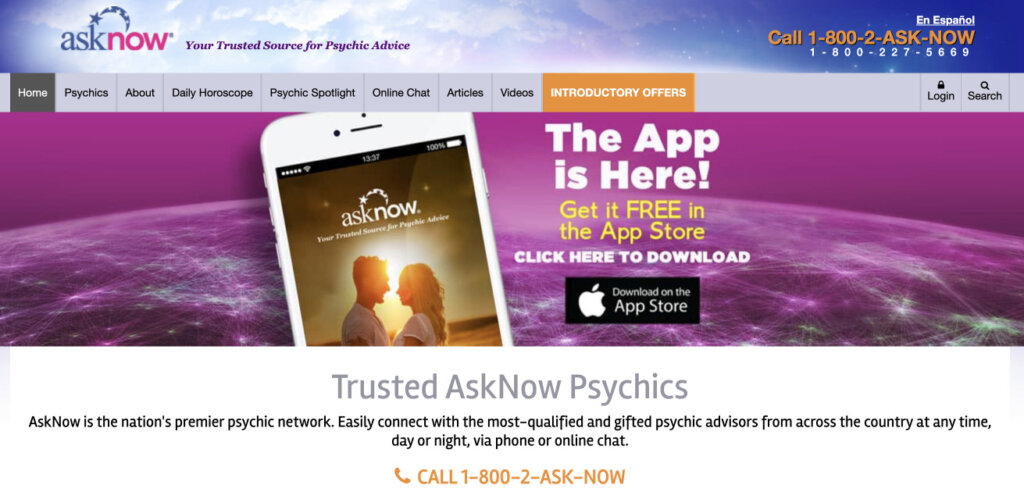 Asknow main features
The diversity of features and services is definitely one of the biggest advantages of using the Asknow psychic platform. For now, let's take a look at the list of services that are included on the platform:
Spiritual guides
Love and relationship readings
Past life readings
Tarot reading
Numerology
Career and goals readings
Dream analysis
Money and finance readings
Astrology reading
All these services are provided by mediums on the site. However, as mentioned above, all mediums are divided into certain tiers that reflect the experience and rating of a reader. Currently, there are 3 tiers available: Top Rated, Elite, and Master psychics. You choose the appropriate medium based on your needs and preferences.
Asknow pricing and discounts
The main goal of this Asknow psychics review is to help you learn as much as possible about a platform that can give you answers. However, it is essential to note that these services are not free, and some may say they are rather expensive. First, psychic reading services are usually charged per minute, and Asknow is no exception. You can pay $5.99 for a minute of communication with a medium, and this is the lowest available price.
Still, if you are a new member, your first session with a Top Rated psychic will cost you just  $1 per minute. In addition to that, you also get 5 free minutes with a Master or Elite psychic.
Asknow—Legit or scam?
Some people think that there is a lot of Asknow scam and fraud. Well, the site has been on the market for more than 17 years, so it is safe to assume that it is a legit site. You can find hundreds of feedback online from people who used the services. Dozens of Asknow reviews can help you understand that this site is legit and real.
Similar Sites Like Asknow
FAQ on Asknow
What is Asknow?
Asknow is a psychic service that provides spiritual guidance and clarity.
Asknow has been in the industry for over 20 years, providing spiritual guidance and clarity to people around the world. They are known for their accuracy and speedy answers. Asknow Psychics Service is a company that offers psychic readings to people around the world.
Does Asknow Psychics have a refund policy?
Asknow Psychics is a company that offers psychic readings in a variety of different ways. They offer phone readings, email readings and live video sessions.
They have a refund policy that states that they will not give refunds for services within 24 hours of the purchase. This is because they want to make sure that their customers are satisfied with their experience before they give them a refund.
While Asknow Psychics does not offer any refunds, there are some things you can do if you're unsatisfied with your reading:
Contact the customer service team at Asknow Psychics to discuss your concerns;
Ask for an email or phone call from your reader;
If you still feel unsatisfied after talking to the customer service team, ask for an exchange of services with someone else at the store;
If you still feel unsatisfied after talking to the customer service team, discuss your issue with the manager.
Is Asknow Psychics confidential?
Asknow Psychics is a company that provides psychic readings to its users. The company does not disclose the identity of its customers and the information they receive during the reading.
Is Asknow Psychics confidential?
Some people might question if Asknow Psychics is confidential because it does not provide the identity of its customers. However, Asknow Psychics follows a strict policy that prevents them from disclosing any personal information about their customers, which is why they are confident in their privacy policy and confidentiality practices.
How to find my trusted psychic advisor on Asknow Psychics?
Asknow Psychics is a platform that connects you with psychic advisors around the world.
When you use Asknow Psychics, you're in good hands. Our team of experts have made it our mission to help you find your trusted psychic advisor. We believe in transparency and our reviews are 100% verified by the community.
Asknow Psychics has been helping people find their trusted psychic advisor for over 10 years now, and we've learned a lot about what makes an advisor trustworthy. When you're looking for your first psychic advisor, there are some key things to keep in mind:
Choose from an advisor who has been in business for a while, not just someone who says they're new.
Make sure the advisor's website is professional and you can find contact information for them easily.
Be careful with advisors who only give out their phone number!