Keen psychic readings website is definitely among the most popular and well-known platforms. Founded in 1999, this website has steadily grown bigger and bigger and earned the reputation of an effective, scam-free, and affordable site with dozens of options and mediums. The main appeal of this site is that it delivers what it offers. It is a simple yet effective place where you can get answers to your questions. The platform's administration cares about its reputation, which is why most Keen reviews are positive and rather informative—you can learn the truth by reading them.
It is essential to note that the Keen psychic website doesn't offer anything unique or special. You can find all the services on other platforms. However, the simplicity and convenience of the design, navigation, and the overall feeling of using the site make Keen very popular among Westerners.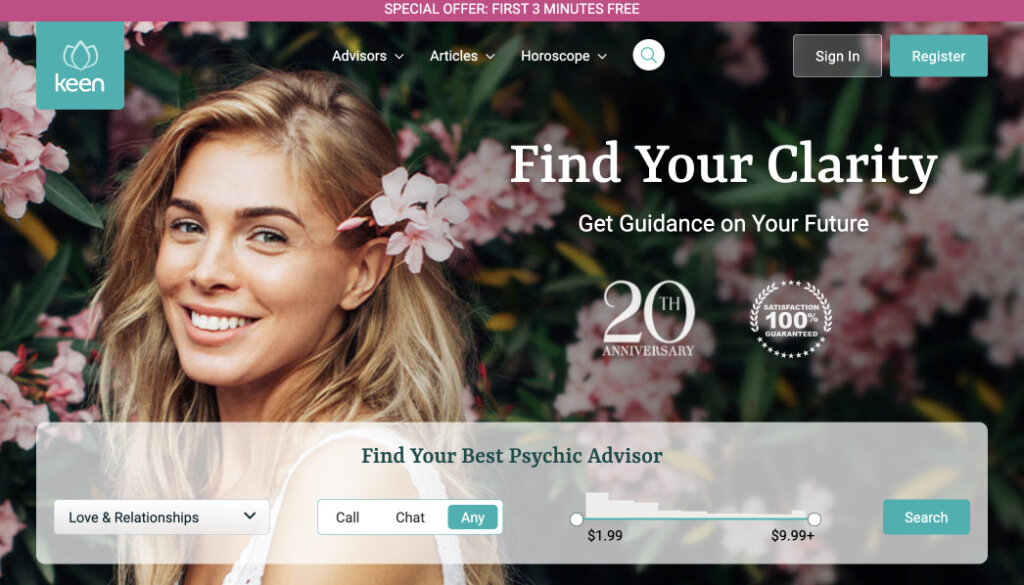 Keen main features
If you want to communicate with a psychic reader, you can do it via phone or chat. The number of psychics online that you can access is rather impressive—around 100 professionals are working during the day, so you can be sure that you will find a perfect expert for your demand.
It is important to note that Keen doesn't offer a huge diversity of services and features. Let's take a look at options that are available on the website:
Spiritual readings
Love & relationships
Life questions
Tarot readings
Psychic mediums
Financial outlook
Astrology readings
The diversity is decent, yet some areas that are popular among consumers of psychic readers services are not present. Still, the site has been evolving over the years, and who knows, maybe in months or years, it will offer a more diverse range of services.
Moreover, if you want, you can download a mobile app that is available for both iOS and Android users. The application is free to download and has everything you need.
Keen pricing and discounts
Services on the Keen platform are fee-based. You pay per minute, which provides flexibility. Still, you need to understand that the cost of such services is rather high since you need at least 5-10 minutes to have a somewhat decent conversation with a reader. The prices start from $1.99. However, as a new member, you get 3 free minutes with any psychic on the website, which is great.
Keen—Legit or scam?
Is Keen legit? The main goal of this Keen psychics review is to tell you that it is. It is a proper platform that has been on the market for over 23 years, during which it has gained a proper reputation among users. You can find dozens, if not hundreds, of Keen users who will tell you how good this site is. People are genuinely into psychic readings, so it won't be difficult for you to find personal feedback regarding this platform. Therefore, it can be said that Keen is a legit and real website, and Keen scam is impossible.
Similar Sites Like Keen
FAQ on Keen
What is Keen?
Keen is a psychic website that provides paid readings for individuals and businesses.
Keen is an online psychic reading platform that has been around since 2000. It was founded by a couple of former psychics who wanted to provide people with a better way to connect with their spiritual side.
The website offers free and paid readings, where the paid readings are more detailed and come with personal coaching sessions. They also offer tarot cards, astrology charts, and other services that can be purchased through the Keen website or on Amazon.
Does Keen Psychics have a refund policy?
Keen Psychics is a company that offers psychic readings and advice. It is not a scam, but it is important to note that Keen Psychics has no refund policy.
Keen claims they offer the "best psychic reading experience in the industry."
They are also quick to point out that they use "only the most accurate psychics," so if you're having second thoughts about your purchase, don't worry because you will get what you paid for.
The company does have an extensive FAQ section on their website where they answer common questions about their services.
Is Keen Psychics confidential?
Keen Psychics is an online psychic reading service, which claims to be confidential. But their privacy policy suggests otherwise.
The site offers a free trial that allows you to have a psychic reading, however, they will then try to sell you a subscription after the trial period. Keen's privacy policy states that they will share your information with third parties in order to provide you with services and deliver them in the way we promise we will.
The terms and conditions of Keen's website state that they may share your personal information with third parties for marketing purposes or for other purposes such as "to protect our legal rights or interests."
How to find my trusted psychic advisor on Keen Psychics?
Keen Psychics is an online psychic advisor that provides free psychic readings to its users. The site has a lot of users and is continuously growing. Keen Psychics also has a lot of features that are designed to help people find their trusted psychic advisors.
Finding the right psychic advisor can be difficult, but with these features, it becomes easier for people to find their match.
You can use the search feature on Keen Psychics to narrow down your search for psychics by keywords such as location, gender, and type of reading. You can also filter your search by whether or not you want a free reading or paid reading.