In this California Psychics review, you will learn about one of the best platforms with psychics! Founded in 1995, this website has been one of the most popular platforms offering psychic reading online. Indeed, California Psychics has a reputation as the oldest and most recognized platform. Nevertheless, despite being over 27 years old, the site looks and feels excellent. The design is modern and slick, the user interface is simple and effective, and the diversity of options, features, and services is simply exceptional.
California Psychics readings can help you find an answer to your question or simply guide you through your life if you have any problems and issues. The number of professionals on the platform may not be the highest, but the quality of services they offer is definitely the biggest advantage of this platform.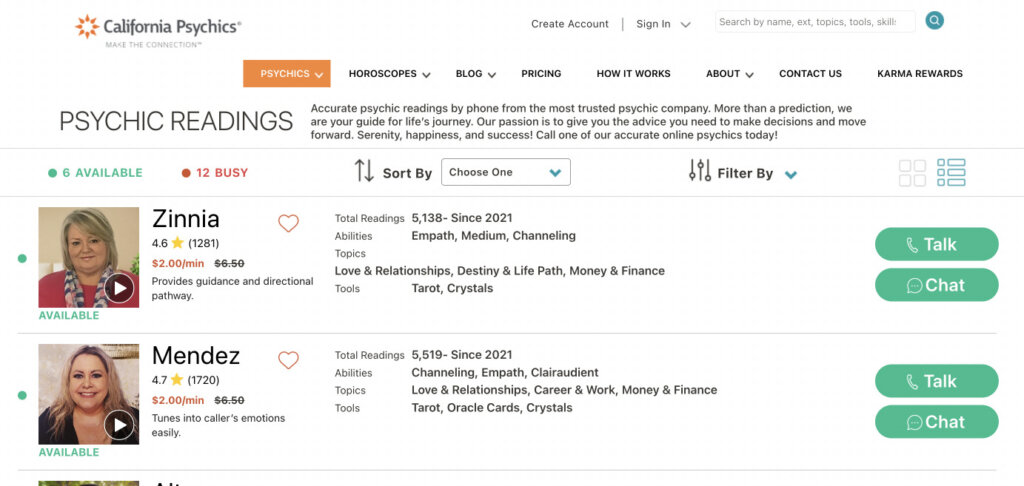 California Psychics main features
If compared with other platforms, California Psychics psychic readings can offer the most diverse range of services and features. Let's take a closer look at these services:
Pet psychic readings
Crystal readings
Life path readings
Numerology
Tarot reading
Deceased and missing persons reading
Astrology
Runes
Love readings
Past life readings
Money and career readings
As you may see, the diversity of services is impressive. It is important to understand that the site hosts dozens of professionals, some of whom specialize in certain areas and types of psychic readings. Therefore, it is rather common for this place to have a slight shortage of experts in certain areas. In general, you can find around 30 psychics online on a typical day, although it may vary depending on the day of the week and the time you are trying to reach one of the mediums.
California Psychics pricing and discounts
Psychic readings are not cheap, yet websites like California Psychics are trying to lower the prices and allow anyone to afford assistance from mediums. Therefore, as a new member, you can enjoy a special offer for your first session. During your first session, a minute of communicating with a psychic reader will cost you only $1!
The prices start from $4 and can reach up to $10 for a minute of communication. Keep in mind that you have two options for communication: chat and phone. It doesn't matter which option you choose, the price remains the same.
California Psychics—Legit or scam?
Is California Psychics legit and scam-free? You can find plenty of California Psychics reviews that can guide you in the right direction and offer you enough information to know that this site is legit and offers real and effective services. All professionals working on the platform are certified and verified, so there is no chance you can get scammed by some stranger. Moreover, every single reader has a rating, so you could check all the feedback to choose the most experienced and acknowledged professional you need! Therefore, the California Psychics scam is non-existing, and you can be sure that your experience is going to be enjoyable, effective, and legit!
Similar Sites Like California Psychics
FAQ on California Psychics
What is California Psychics?
California Psychics is a website that provides psychic readings and tarot card readings. The website offers a wide range of services to its customers. These include online chat, email, phone and text support.
California Psychics also offers a wide range of psychic readings, including love advice, career advice, relationship advice and more.
Does California Psychics have a refund policy?
The California Psychics Website has a refund policy which is described in the Terms and Conditions.
The California Psychics Website has a refund policy. If you are not satisfied with your purchase, you can request a refund within 30 days of purchase. You will receive a full refund minus any shipping and handling costs.
California Psychics Website does not offer refunds or exchanges for items that have been customized or altered in any way.
How to find my trusted psychic advisor on California Psychics?
In this article, we will discuss how to find your trusted psychic advisor on California Psychics website.
In order to find a psychic that is right for you, there are a few things you can do in order to make sure that you are getting the best possible experience with your psychic advisor. First, you should look for someone who has a lot of reviews from past clients. Next, you should look for someone who has been on the website for at least two years and has a good number of reviews from other clients. Lastly, looking through their testimonials is also helpful because it shows what type of experience their clients had with them.
It's easy to find reviews for a psychic, but the first step in finding your trusted advisor is searching through their reviews. Check for testimonials, before and after photos, and how long they've been in business. It's also important to read about their fees and if you're comfortable with phone readings.